URSA Mini 4.6K BETA TEST
This January, as we were prepping for our 8th short film in a new series of 20 inspirational films, Blackmagic Design asked us if we could beta test their new URSA Mini 4.6k Camera on our next production.  This particular film was about a fugitive struggling to survive in the wild of winter and we knew we would be facing many tough and diverse natural lighting scenarios so we were very excited to find out what this new sensor with 15 stops of dynamic range could actually deliver in this harsh environment.
Although we shoot with many different cameras on many different projects, the first 7 films in this series were shot on the URSA 4K and are what caught the attention of Blackmagic Design a few months back. When they got wind that we were planning a shoot in the mountains with high contrast, bright snowy conditions they rush shipped a beta camera so it would arrive the day before our shoot. We had no time to test the sensor before our 7am shoot the next morning and I was very nervous to shoot a film with a camera/sensor I had not tested. It was a huge risk … but we took it.
I fair amount of our shots consisted of wide angle gimbal movements so we mounted the Mini to the DJI Ronin, hoping it would our best bet to capture all the detail and highlights through the snowy woods and kept the Ursa 4K for most of our closeups, handheld, and tripos set ups.  It took some finagling to balance it properly but the resulting images were incredible! Look out for a separate post soon on how we balanced the Mini on the Ronin.  Below is an iphone pic of our Ronin Operator, Britt King, with the Mini 4.6K somewhat jimmy-rigged to our Ronin on this shoot.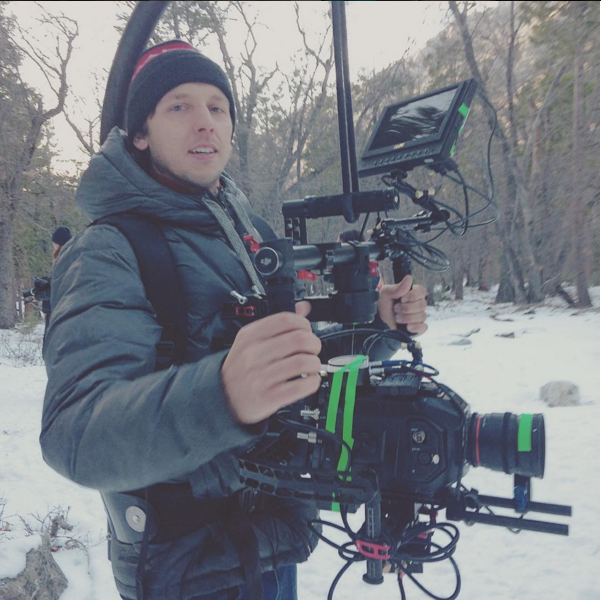 As I felt comfortable shooting with the mini throughout the day and being pleased with the images in the monitor I decided to shoot all our night scenes on the Mini at ISO 800 instead of the URSA 4k (which I always keep at 400iso).  At nearly a third the weight of the Ursa, the Mini was much easier to work with hand-held, especially on the snowy and rocky terrain.    I even through myself down the snowy mountain side with the Mini 4.6K in hand shooting up on our incredibly committed actor to get an intense action shot for the film as he tumbles down and kicks snow into the lens (see sample video below).  I could not have done this with the URSA 4K due to its size and weight.  Overall it was a pleasure to shoot with this camera and found it to be an extremely versatile body and form factor.  Would the footage also please us? YES
When we finally wrapped and I was able to review footage in Davinci Resolve and I was Stoked!  This is when I really saw the powers of this new sensor and especially when compared to other Blackmagic cameras.  The URSA Mini 4.6K recovered all the extreme highlights in the snow that were overexposed by at least 3-4 stops and still delivered all the detail in the shadows.   The URSA 4K on the other hand clipped all our bright highlight snow areas even when trying to underexpose to hold them when possible and they were not recoverable in resolve (we did however still manage some incredible shots with it…see  screen grabs below).  So Dynamic Range was very impressive, especially the extra stops in the highlights!  The 2nd most exciting feature of this sensor is the clean and native 800ISO!!  The DR at 800 is incredible and the image is very clean allowing us more versatility and light sensitivity for our scenes!
We really enjoyed working with the Mini 4.6k on this project and since then have put it through many more productions and will have much more for you in blog posts coming soon.
We're also looking forward to testing how it compares to the Arri Alexa and Red Dragon.
What do you want to know about the URSA Mini?  Feel free to leave a comment below!